Life with kanakeno
Imagine this.
Get up 15 minutes early in the morning.
Boil water in an iron kettle.
Welcome coffee brewed in mellow hot water.
A little more luxurious morning than usual.
Why don't you start having such a life with kanakeno?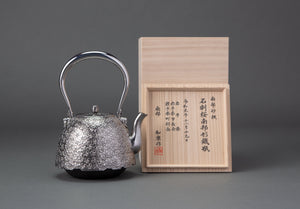 Reliable "traditional value"
Kanakeno's craftsmen work under the guidance of technical advisor Kazuyasu Tayama (a nationally designated Contemporary Master Craftsman, President of Nanbu Tekki traditional craftsman)
Kazuyasu Tayama is one of the most skilled craftsmen in the industry, and has been commissioned by Iwate Prefecture to create an iron kettle to be presented to the Emperor on the occasion of his enthronement in 2019.
The craftsmen continue to absorb the techniques under his guidance.
kanakeno's Craftsmen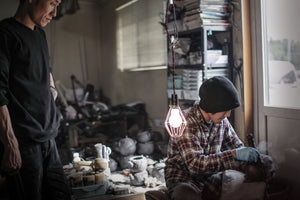 Training of Young Craftsmen
In order to pass on the craftsmanship of master craftsmen to future generations, we are working on the "Akai Ringo Project", in which young craftsmen are involved in the entire process of iron kettle production at an early stage.
We were able to receive the 3rd Mitsui Golden Takumi Award for training young craftsmen and evaluating the quality of their products.
About the Mitsui Golden Takumi Award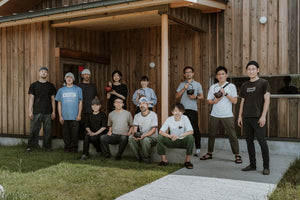 Creating a Fun Life
We would like the use of iron kettles to lead to an "enriched life" and "fun".
We will continue to update the life of iron kettles with users, such as providing daily information to kanakeno iron kettle users on LINE and holding a event called "Tetsubin School".
Why don't you enjoy and join this "Tetsubin life" together?
Iron Kettle School
Q. Can iron kettles be used with induction heating?
A. Yes, it can also be used with induction heating.
kanakeno's iron kettles can be used with most heat sources such as gas stoves, induction heatings, reflective stoves, camping gas burners, and charcoal fires.
* If you use an iron kettle with induction heating, please check the corresponding bottom diameter size of your IH. If the size of the bottom diameter is not supported, it may not respond.
The bottom diameter of the iron kettles of kanakeno are 8cm to 8.5 cm. Please see the Product Specification Listfor details.
Q. Is it true that I can replenish iron from the plain hot water boiled by iron kettle?
A. It has been academically proven that iron is eluted in hot water boiled in an iron kettle, and most of it is divalent iron that is easily absorbed by the body.
By drinking iron kettle hot water, you can replenish iron in a natural way, and you can easily incorporate it into your daily life. We recommend that you use it as a supplement with your daily meals.
However, please note that iron kettles with enamel processing inside the iron kettle cannot be replenished with iron.
* All kanakeno iron kettles are manufactured so that iron can be replenished.
Q. What should I use for boiling water?
A. It is okay to use tap water at home.
Boil tap water in an iron kettle to soften the odor of chlorine and make the hot water mellow and delicious. (*The taste of water is slightly different depending on the area where you live.) 
For details, see"Basic Usage"here.