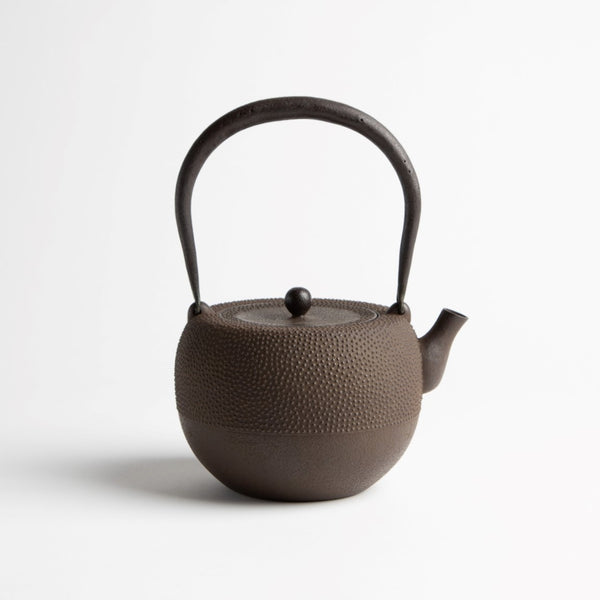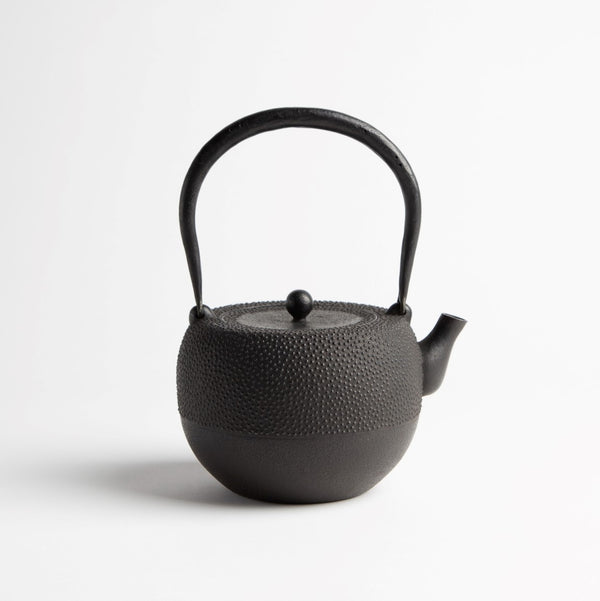 About Mizore Arare


*Mizore means "sleet", Arare means "hail" in Japanese.
While retaining the appearance of a traditional tetsubin, the Mizore Arare gives a stylish and somewhat new impression.

Traditional Arare patterns are often drawn evenly, but by making them random, there is no one that is the same, expressing the warmth unique to handmade products.

This "Arare pattern" is randomly arranged like sleet hitting the earth, which is also the origin of the product's name.
I hope that this "Mizore Arare" can express the "breaking tone" that has been emphasized as the aesthetics of the Japanese people.

Inspired by the acorns of Quercus acutissima, the form gives nice and pretty a petite impression, unlike the iron kettle with a heavy image.
The shape of the body is based on the acorn of Quercus acutissima.

Contrary to its appearance, the capacity is 1L and the size is enough for 3 to 4 people to drink tea.

And it weighs about 1.1 kg, which is one of the lightest iron kettles, and can be handled easily with one hand.  
The larger lid makes it easier to fill the iron kettle with water regardless of the shape of the faucet.  

The handle is easy to grip because of the traditional style of handle  "Fukurozuru", and the traditional decoration *Mushikui  makes it easier to escape heat from the handle. When boiling with induction heating, you can touch the handle directly with bare hands.
 
*Mushikui is the decoration of a small hole in handle. 



The spout, which is particular about pouring easily, is designed to produce just the right amount of hot water for daily use, and is adjusted to the smallest detail by craftsmen, so you can use it in your daily life without stress.



The standard black one, favored by both men and women, and the brown one, which gives a softer impression, are both designed to blend comfortably into modern life.

Each hail that cannot be imitated by mechanical mass-produced products, and it is an only one design that is created by craftsman with his rhythm, feeling and enthusiasm at the time.
It's simple and no one is the same.
A basic product that preserves the 400-year tradition of handicrafts.
*Packing image
Product Details
Capacity: 1.0ℓ
Height: 23 cm (including handle)
Body Diameter: 14cm
Bottom: 8 cm
Weight: 1.1kg
Pattern: Arare 
Serial number: listed on the bottom
Induction Heating: Available
* It may not be supported depending on the induction model and bottom diameter. For details, see the instruction manual of your induction heating.
Delivery Time
Each item is handmade by a craftsman, and we may receive an order and work on the production, so it may be difficult to deliver it immediately after ordering.

 

Please note.

As a current schedule, it will be shipped within

8 months

 

after payment

.

(Please note that it may change slightly). 

If you are in a hurry, please contact us.

 
FAQ
Q. 鉄瓶はIHでも使えますか?
A. はい、IHでも使用可能です。
kanakenoの鉄瓶は、ガスコンロ、IH、反射式ストーブ、キャンプ用ガスバーナー、炭火等、ほとんどの熱源で使用可能です。
※IHで鉄瓶をお使いになる方は、ご使用のIHの対応底径サイズをご確認ください。底径のサイズが対応外ですと、反応しない場合がございます。
kanakenoの鉄瓶の底径は8cm~8.5cmとなります。 詳しくは製品仕様一覧をご覧ください。